Purple diamonds have always been part of human history. Through the centuries, people have known purple to be a color associated with royalty. People of royal blood have always worn this color on their clothes. They even have their quarters adorned with this color. To honor the royal family, even more, members of the royal court have purple jewelry made for them. The unique pieces made were from naturally created purple diamonds.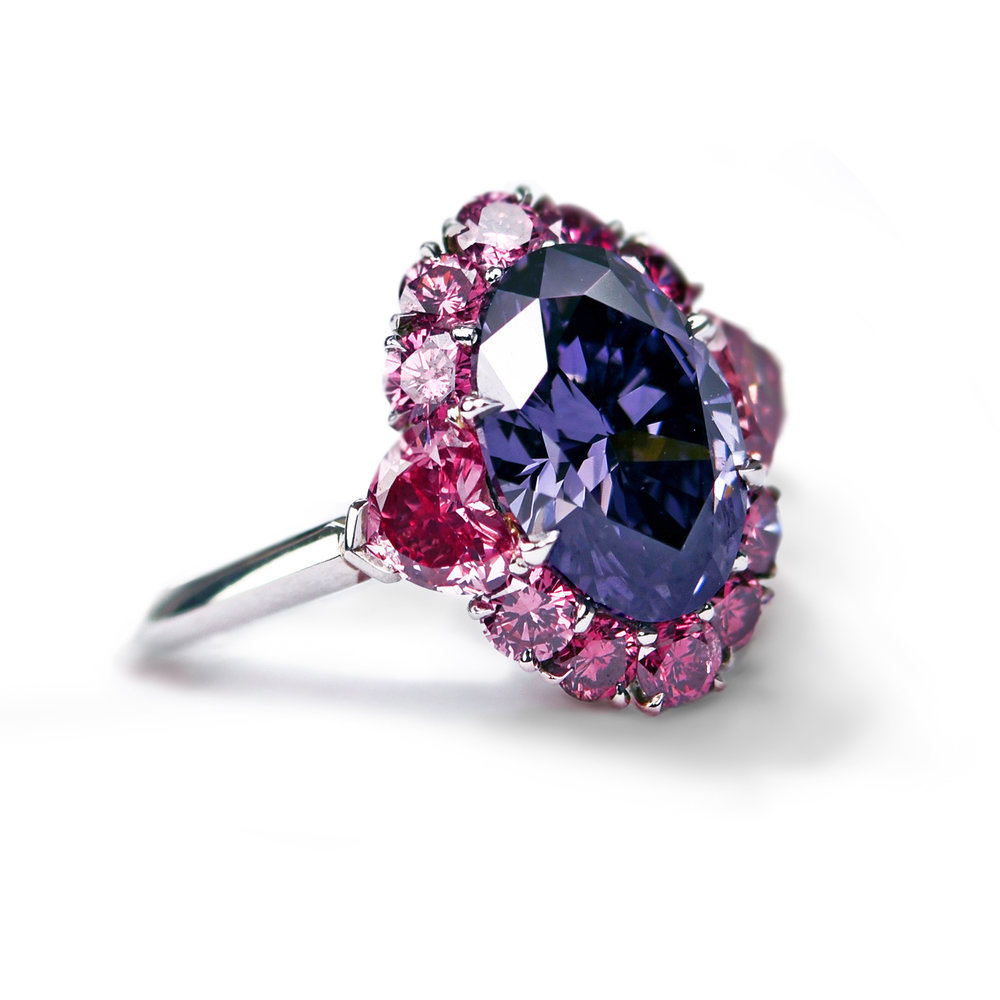 The Formation
Like all other naturally colored diamonds, purple diamonds are exposed to a specific kind of gas during its formation. As purple diamonds form, they become exposed to elevated amounts of boron and hydrogen. If hydrogen stays longer near a raw diamond, the hydrogen levels become higher. The resulting purple diamond will then have a deeper tint.
The Origin
Purple diamonds are also known as mauve diamonds, lilac diamonds, plum diamonds, grape diamonds, and orchid diamonds. According to current statistics, these stones come from the mines of Australia, Canada, and Russia. The natural purple diamonds that have already surfaced compose 1% of all diamonds obtained from the mentioned three countries. Based on the latest statistical data, plum diamonds are highly-prized stones in the world. 
In the past two years, purple diamonds have been gaining popularity. People in the jewelry business have almost doubled their loose purple diamond shipments and sales. More diamond collectors are making themselves known, especially those who want to collect plum diamonds.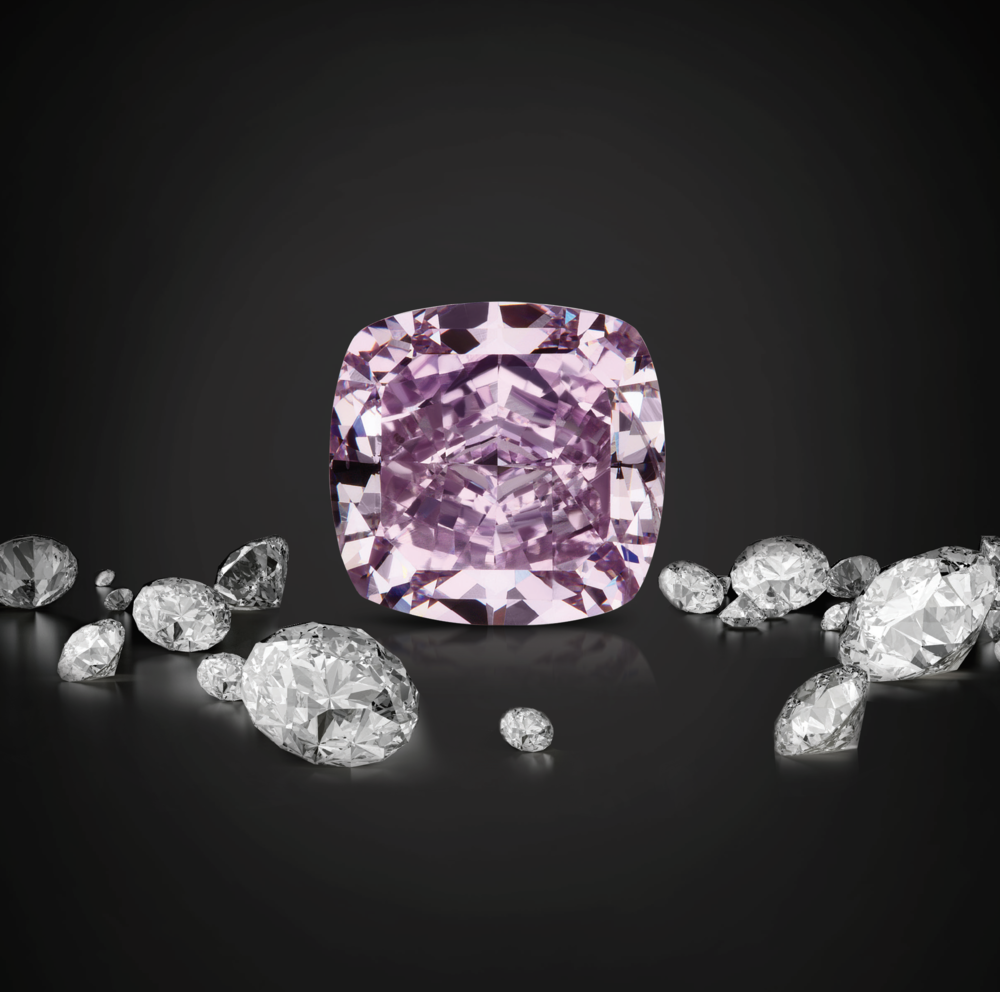 Popular Purple Diamond Ring Settings
The setting of your purple diamond makes it more eye-catching and one-of-a-kind, no matter the cut of your stone. Here are some of the most well-known diamond ring setting for purple diamonds.
Halo
By placing your purple diamond in a halo setting increases the surface area of your ring. It also emphasizes the center of your purple diamond. 
Side Stone
If you want to make your purple diamond pop, surrounding it with smaller stones will do the job. This will also add more value and carat weight to your ring. 
Pavé
When your purple diamond is in this setting, your stone becomes more brilliant. 
The Most Famous Purple Diamonds
Purple diamonds are like red diamonds when it comes to rarity (or even top them). That is why there aren't many purple diamonds to discuss, especially those with large carat weights. Diamond experts contemplate that purple diamonds that have been discovered to be extremely mysterious.
The Royal Purple Heart
This heart cut 7.34-carat diamond is a work of art, wrapped in mystery. The Julius Klein Diamond Corporation made this stone's shape and brilliance possible. The Royal Purple Heart is the largest of all purple diamonds ever discovered. Other than its beauty, intricacy, and size, this purple diamond is still a mystery.
Until this day, the price paid by the diamond's current owners is still not disclosed. Even the mine from which it was obtained unknown. Some experts speculate that it was in an area in Russia.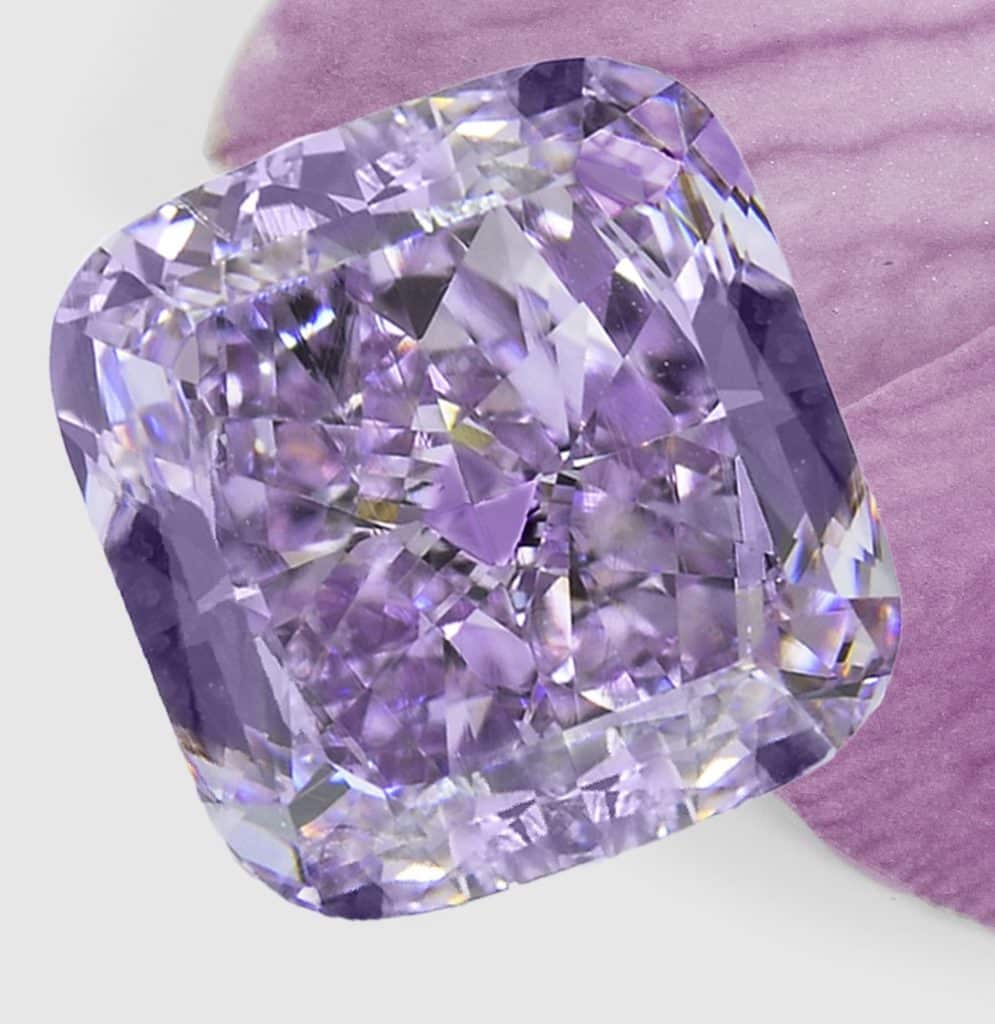 The Purple Orchid
In the Hong Kong Jewelry and Gem Fair back in 2014, the Purple Orchid astonished the world. It was obtained from a confidential diamond mine in South Africa. This mine is one of the locations in the world where you can find pure purple diamonds.
The Purple Orchid started as a 4-carat rough diamond. Such an extraordinary diamond required many months of mindful polishing and cutting to bring out its real beauty. When the Purple Orchid's processing was finished, it became a cushion-cut 3.37 carat diamond. This purple diamond is a genuine, high-caliber rarity.
By the time the Purple Orchid was auctioned, it amounted to an undisclosed amount as requested by the winning bidder. Yet, the asking price was known to be 1.2 Million per carat.
The Supreme Star
Known as the "King of All Purple Diamonds", the Supreme Star may also appear crimson in certain angles. This diamond was first seen in London in 2002. There, an unknown seller thought that it was just a gemstone. Even the description of the stone was unusual. The Supreme Star weighs 2-5 carats. Its characteristics, discovery date, and place of origin still have to be determined. Most diamond experts believe that this purple diamond originated from the Amazon, more than 25 years ago. The Supreme Star's estimated value is 8 to 20 Million USD.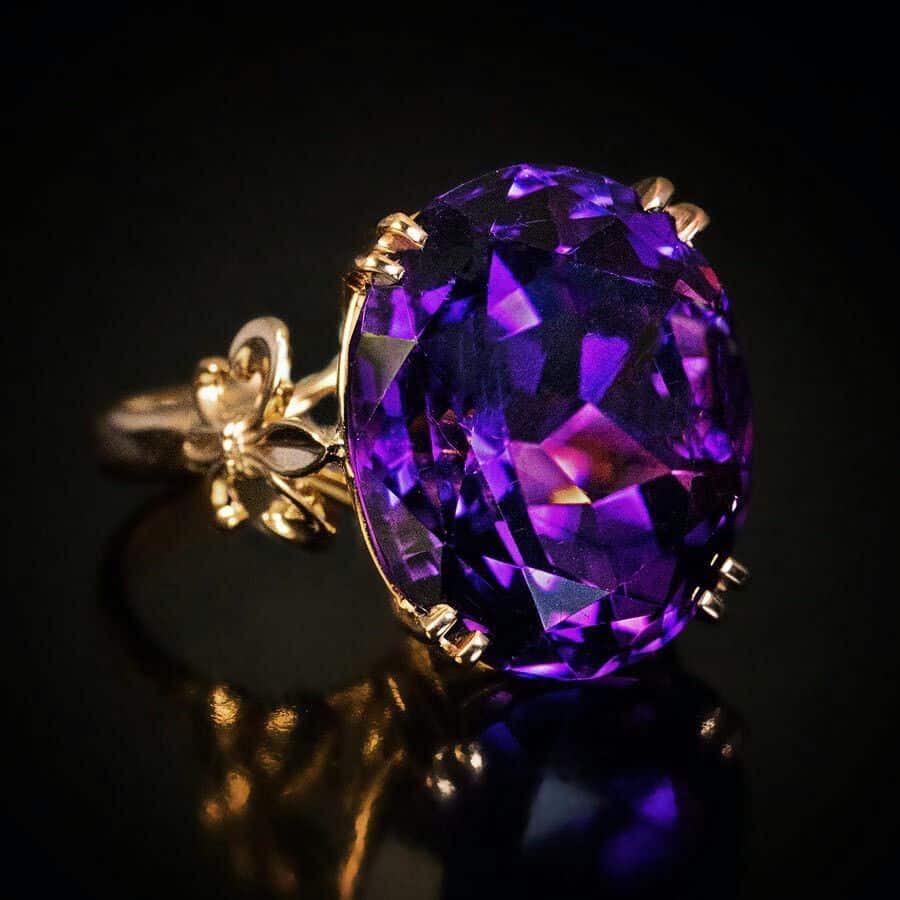 Purple diamonds will always be a mystery. Nonetheless, they are still highly valued, rare, and expensive. If you want a true purple diamond, it is always best to consult your jeweler or a diamond expert. This way, you can be sure that the purple diamond you want is authentic and worth every penny.