Farnese Blue Sells for $6.71M at Sotheby's Geneva Jewelry Sale
May 17, 18 by Albert Robinson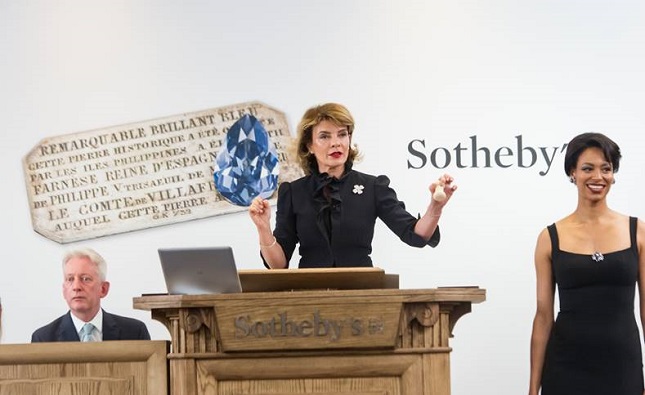 (IDEX Online) – Three world-class diamonds, discovered 300 years apart, dazzled in Sotheby's Geneva jewelry sale, the auctioneer said.
An historic diamond known as The Farnese Blue, sold for $6,713,837, well above its pre-sale estimate of $3.6 million – $5.2 million.
Given to Elisabeth Farnese, Queen of Spain, as a wedding present in 1715 and subsequently passed down through four of the most important royal families in Europe, the 6.16-carat pear-shaped blue diamond was on the market for the first time after three centuries in the same family.
In addition, there were two other white diamonds: a 51.71-carat round diamond and a 50.39-carat oval diamond, which both sold above their high pre-sale estimates for $9,251,851 and $8,123,845, respectively. Discovered in Botswana, they are D-color, flawless and Type IIa.
Bidders from 50 countries took part in the Magnificent Jewels and Noble Jewels sale which also saw strong results for other white and colored diamonds, signed pieces and jewels with aristocratic provenance and concluded with a combined total of $85,629,630.
Daniela Mascetti, Deputy Chairman, Sotheby's Europe and Senior International Jewellery Specialist and said: "The timeless appeal of diamonds was reasserted tonight in Geneva, with three exceptional stones cut centuries apart capturing the attention of international collectors. The Farnese Blue is quite simply an unforgettable diamond, and everyone who set their eyes on it was mesmerized by its extraordinary color: the rich blue of the deepest ocean. As was evidenced by the competition between bidders this evening, the response from collectors has matched our own excitement for this diamond. We were also delighted be the results achieved by the two white diamonds over 50 carats in the sale, whose color, cut and clarity are synonymous with 21st-century perfection."