De Beers launches Sierra Leone-based pilot to remove 'conflict diamonds' from the market
Cecilia Jamasmie | | PeopleMine Facebook LinkedIn Twitter Email Print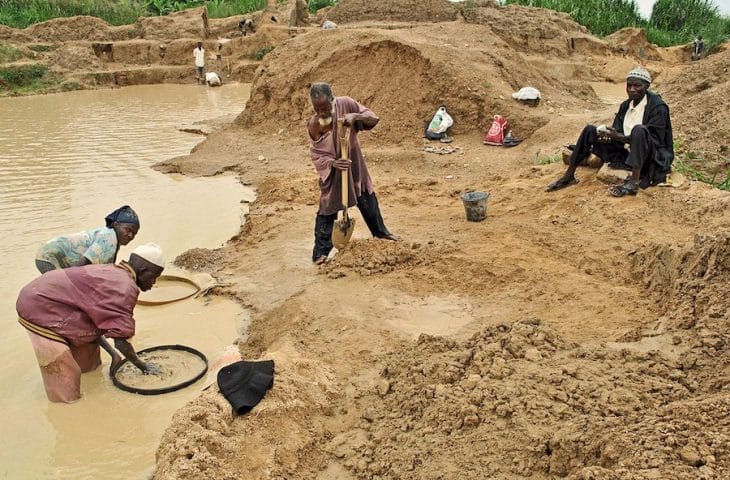 Artisanal mining accounts for only 20% of global diamond production, but carries a tainted reputation that's damaged consumer confidence for almost 20 years. (Miners in Kono District, Sierra Leone, panning for diamonds. Courtesy of USAID Guinea via Wikimedia Commons.)
Anglo American's De Beers, the world's largest rough diamond producer by value, is stepping up efforts to remove so-called "conflict" precious stones from the market by launching a pilot program in Sierra Leone that will help trace the route gems dug up there by small miners.
The trial, which aims at supplying retailers with "ethically-sourced" diamonds from artisanal miners based in the West African country, is De Beers' latest attempt at cleaning-up distribution chains and better gems worldwide.
As part of the GemFair initiative, the diamond giant will train artisanal and small-scale miners and provide them with tablets as well as a diamond "toolkit" to digitally track their diamonds throughout the supply chain. The technology uses GPS locations and QR-codes to "bag and tag" stones, it said.
De Beers will train artisanal and small-scale miners and provide them with equipment to digitally track their finds.
It will be run with the Diamond Development Initiative, a non-government organization focused on formalizing artisanal mining in Africa.
"The ASM [artisanal] sector represents a critical income source for many poverty-affected communities," De Beers chief executive, Bruce Cleaver, said in the statement. "However, due to parts of the sector being largely informal and unregulated, it lacks access to established international markets and the ability to derive fair value for participants."
If successful, the GemFair technology will be integrated on to a new blockchain platform De Beers is developing, Cleaver noted.
Artisanal mining accounts for only 20% of global diamond production, but carries a tainted reputation that's damaged consumer confidence for almost 20 years.
Between 1991 and 2002, the district of Kono, in Sierra Leone, was at the centre of the "blood diamond" trade that funded the country's brutal civil war as rebel groups exchanged gems for weapons.
Despite the establishment of the Kimberley Process in 2003, aimed at removing from the supply chain the now called "conflict diamonds" (those mined in an area of armed conflict and traded illicitly to finance the fighting), experts say trafficking of precious rocks is still ongoing.
According to Canada-based Centre for Research on Globalization (CRG) about one-fifth of diamonds on the global market in value terms are still a significant source of funding for regimes accused of committing crimes and human rights violations.
De Beers sells its diamonds mostly to authorized buyers at a series of so-called "sights" in Botswana, Namibia and South Africa. Then, they are normally sent to be polished or cut before ending up with retailers.
The company aims to buy the first ethically-sourced artisanal gems from Sierra Leone-based small miners this year.